As my staff, my family and some of my patients know, my workday doesn't always end when I leave the office: I volunteer in several capacities for the benefit of the optometric profession. While these commitments keep me busy, I strongly believe they also make me a better doctor.
I'm currently finishing my term as president of the Virginia State Board of Optometry, a position to which I was appointed by the Governor. In my four years on the Board, I've helped to ensure the safety of optometric patients by reviewing and ruling on complaints about optometrists who may have violated a regulation or law. It was an honor to serve on the Board, but now that my commitment is complete, I've already lined up my next volunteer gig with the Meetings Committee of the American Optometric Association.
I volunteer for the American Optometric Association (AOA) and am a past president of both the Virginia Optometric Association (VOA) and Richmond Optometric Society (ROS). I have volunteered for both the VOA and ROS in various capacities for 15 years. While the commitment to participate with these three organizations takes me away from the office for up to two weeks each year, I feel strongly that being active in these organizations is crucial to my ongoing ability to provide our patients with the best possible care for their eye health.
The American Optometric Association represents approximately 44,000 doctors of optometry, optometry students and paraoptometric assistants and technicians (including Amber, Megan and Nicole from Ridgefield Vision Center). The AOA advances our mission to promote and protect eye health by keeping us abreast of the latest in optometric care and technology while leading the way in the development of clinical tools, best practices, and continuing education programs to advance and elevate patient care.
Optometry is a legislated profession, meaning that state and federal laws regulate exactly which procedures I perform and which medications I prescribe. For example, in Virginia, optometrists have the scope of practice to treat glaucoma patients, whereas there are some states where optometrists do not.
Volunteering for the AOA and VOA enables me to advocate for the legislative regulations that impact my practice and your eye health.
For example, while medical technology can be a powerful tool when used properly by a licensed professional, the AOA and VOA organizations help to safeguard consumers from dubious technology that compromises well-accepted standards of care and places a patient's health at risk.
I will continue to volunteer and advocate for my patients so that we at Ridgefield Vision Center can focus on our mission: to provide our patients with the highest standard of optometric care for your eye health with friendly, personable service.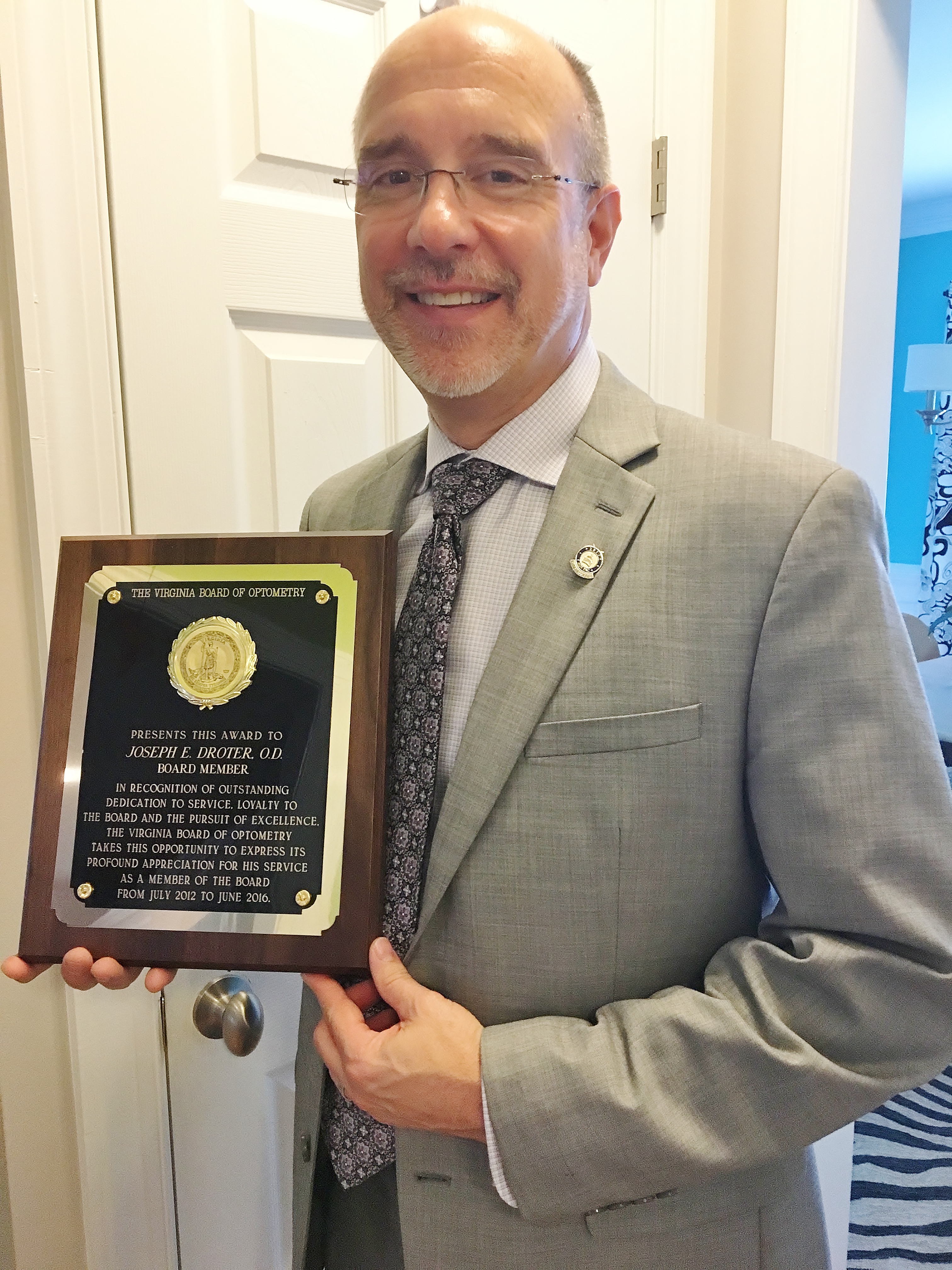 ———————————————————
For 19 years, our optometry team at Ridgefield Vision Center has provided conscientious, personable vision care for adults and children in Richmond's far West End, near Godwin High School and Short Pump Mall. We make going to the eye doctor a positive experience. Whether you need eyeglasses, sunglasses or contact lenses, we offer the highest-quality products to ensure the health of your eyes so that you enjoy good vision in every season of life. We'll continue to provide you with valuable information about the human eye and to provide the highest level of professional eye care for our patients' vision health. Call us at 804-741-1204 and schedule your next appointment today!