Special Testing
Special testing means extra special eye care.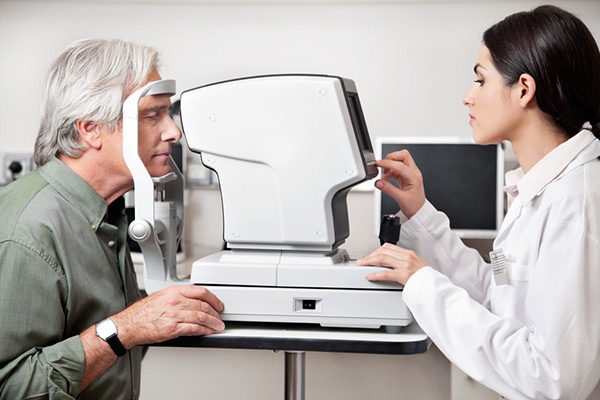 Keratron Scout
Corneal topography, also known as photokeratoscopy or videokeratography, is a non-invasive medical imaging technique for mapping the surface curvature of the cornea, the outer structure of the eye. Since the cornea is normally responsible for some 70% of the eye's refractive power, its topography is of critical importance in determining the quality of vision and corneal health. The cornea (the front window of the eye) is responsible for about 70 percent of the eye's focusing power.
ZEISS/Humphrey Visual Field Testing
Visual Field testing can help save vision because it is another test used to diagnose or rule out glaucoma and other neurological disorders that affect vision. This simple, but effective service has saved lives by detecting various medical conditions such as strokes, brain tumors, and other neurological defects.
i.Scription® by ZEISS
i.Scription® is a revolutionary new technology by ZEISS that determines the unique requirements of your eyes with far greater precision than standard methods, resulting in prescription eyeglass lenses more attuned to your vision needs than any other lenses available today.
i.Profiler® by ZEISS
The iProfiler by Zeiss takes your personal corneal anatomy into consideration by measuring the higher order aberrations of your eyes to help correct previously uncorrectable vision issues. This results in prescription and customized lenses that help correct nighttime vision issues, and improve clarity, color and contrast. Using this prescription technology, Zeiss, customized high-definition lenses will give you vision like you've never experienced before.
Reichert Auto Tonometer
Tonometry is a method of measuring the pressure in the eye. Tonometry is used to determine the pressure in the eye by measuring the tone or firmness of its surface. This test is used to check for glaucoma, an eye disease that can cause blindness by damaging the optic nerve. Damage to the optic nerve may be caused by a buildup of fluid that does not drain out of the eye properly.
Fundus Photography, or Retinal Digital Imaging
A high-definition digital image of the retinal area helps your eye doctor diagnose and manage eye diseases in the delicate retinal area. Damage to the delicate structures of the retina is often the first sign of systemic diseases such as MS, diabetes and others. The retina is the "window to the body" and routine retinal imaging can help your eye doctor monitor the changes in your eye health from year to year.